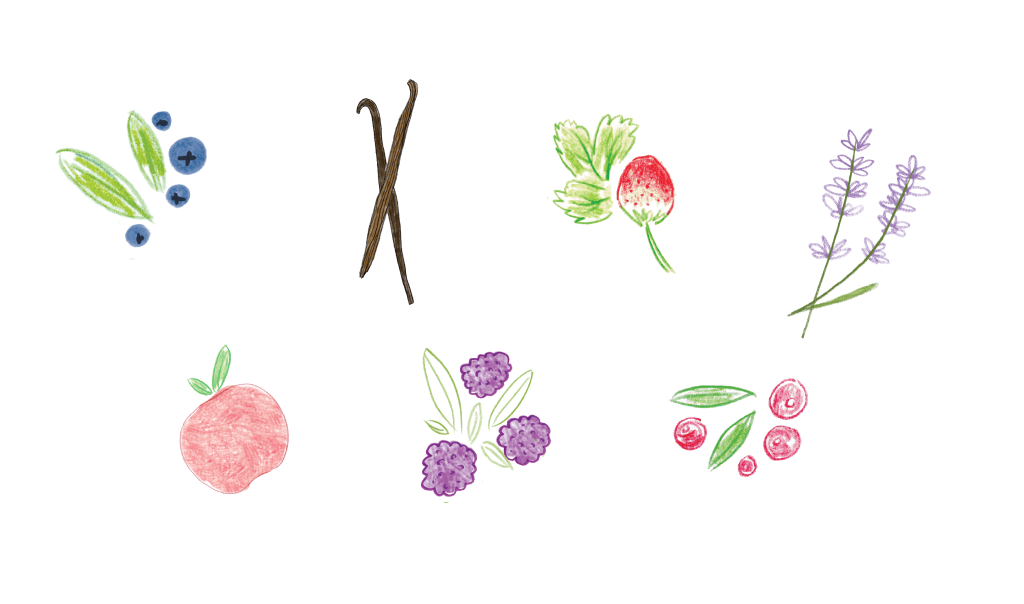 Exquisite ingredients; crafted with care and shared with gratitude.
Ice Cream
Is there a more versatile yet familiar palette than ice cream? Here are just a few examples of seasonal and perennial flavors that you'll find in our rotation:
HONEYSUCKLE
Jen's labor of love. For this limited-time flavor, often occurring in June, hundreds of hand-picked flowers cold steeped in milk for 36 hours. For some, this offers a taste of childhood.
RAMBLE TAMBLE
Organic fair-trade Dominican cocoa with salted caramel and buckwheat graham cracker crumb.
BEARD OF BEES
Amber autumn honey with almond streusel.
CREME FRAICHE CRANBERRY
House cultured organic cream and New Jersey cranberries.
MEADOW MINT
Fresh dairy steeped with copious amounts of locally grown mint and swirled with handmade fudge sauce.
Ice Cream Sandwiches
Our ice cream sandwiches are handmade weekly right at our creamery with house-baked cakes, cookies, brownies, and fillings. Each sandwich is built with purpose to elevate the ice cream experience in a captivating package. Here are some examples of our tried-and-true flavor varieties, as well as some of our more intriguing combinations:
THE BLACK & WHITE
This is our most popular year-round offering. Organic chocolate and fair-trade vanilla between two perfectly soft chocolate chip cookies.
THE BREAKFAST CLUB
Three oatmeal cookies are layered with cinnamon toasted oat ice cream and seasonal fruit butters. It's so good and also happens to be gluten-free.
STRAWBERRY LOVAGE
Roasted strawberry ice cream, strawberry jam, and piquant lovage ice cream on lemon shortbread cookies.
FIN DE L'ETE
Honey, rosemary, and mint ice cream with salted fudge on dark chocolate wafers.
LEMON VERBENA BLACKBERRY
Fresh lemon verbena ice cream with tart local blackberries on sugar cookies.
BLUEBERRY ON CARDAMOM GRAHAMS
Heirloom blueberries from New Jersey take center stage with a hint of dark rum and lime zest.
Sorbets
Ice cream's bold and persnickety dairy-free cousin. Sorbet is all about finding the essence of a single ingredient. Recent flavors have included:
BLACK RASPBERRY TULSI
Fragrant local berries and a touch of soothing holy basil.
TART CHERRY
Local sour cherries and lime.
DARK CHOCOLATE
Shockingly rich and deep, this flavor is made with fair-trade dark chocolate and organic cocoa.
Can't make it into the shop? Check out where else you can find Weckerly's!